50s Fashion Aesthetic: Introduction
There are many iconic eras in the history of fashion and one such is the vintage era of the 1950s. Fashion Curators and designers always took inspiration from the past. This era is the best to take insights as it had various elements such as silhouettes, fabrics, prints, and colors. You will find one of these elements trending in fashion over the years. Post-Covid years are the best example, Y2K aesthetic which is inspired by the 2000s style is in vogue. If you want to refresh your style statement or try something new then you must take inspiration from the 1950s (50s Fashion Aesthetic).
Into the depth of 1950s fashion: 50s Fashion Aesthetic
As mentioned 1950s was a liberating and iconic era in the fashion industry. This is the time after World War II and the rise of famous fashion designers like Christian Dior, Cristobal Balenciaga, Chanel, and Givenchy. These designers bought major changes in the then existing style and created looks for everyone, those who like to make a bold statement and also for those who like to keep it sophisticated. The 1950s fashion is the most sort after and put-together trend. It is the most celebrated vintage era with diversity in its fashion (50s Fashion Aesthetic).
Silhouettes like an hourglass, cinched waist, square neck, and round shoulders are all inspired by Dior`s "New Look" collection of 1950. You will get to see varied waistlines in garments of this era and it is used to be a focal point. It also includes looks with petticoats, corsets, long round skirts, and or slim bodycon dresses. Men in the 50s used to wear 3 piece suits for formals and color-coordinated vests.
Aesthetic 101:
The 50s trend is an amalgamation of various other sub-trends. Like the most famous Retro styles with polka-dotted skirts and dresses, small waist, poodle skirts, etc. This trend is very old school and you will get to see this in various films with a vintage setting. Another one is the Rockabilly subculture which is inspired by the rock and roll music genre, this was majorly famous amongst teenagers. If you want to try this trend, dress up in a fitted dress or a pencil skirt a headscarf, and a pompadour.
Also visit: Virgo Aesthetic: Law Of Attraction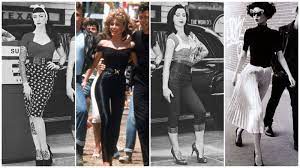 The Pin-up fashion trend was another wave famous back in those days. This trend mainly focused on female sex appeal and consisted of revealing clothing, bodysuit, bustier tops, fitted skirts, hot pants, and halter necks (50s Fashion Aesthetic). One of the most famous trends of this time was the Greaser fashion which was inspired by motorcycles and is meant to complement rockabilly style. Often worn by men, this trend consisted of looks with leather jackets, fitted jeans, belts, plain t-shirt, and heavy boots. Casual fashion included pleated skirts, sweaters, slacks, and it is all about the silhouettes which make this a remarkable era.
50s Fashion Aesthetic on Pinterest | Baggy Aesthetic | 5 minute morning meditation | Karlee Perez | Baggy Aesthetic All You Need To Know About Fashion